Riverview Apartment Remodel
Riverview Apartment Remodel (Tulsa, OK) – Remodel
This was a competitively bid project designed by Architects Collective. The concept for this project was to provide a complete exterior modernization of the entire facility. The original structures were built in the 70's and were very dated. The existing structures consist of 39 buildings with a total of 180 individual apartment units. As you can see from the before and after photographs, new dormers and porches were installed. Also all the existing siding was replaced as well as new roofs were installed.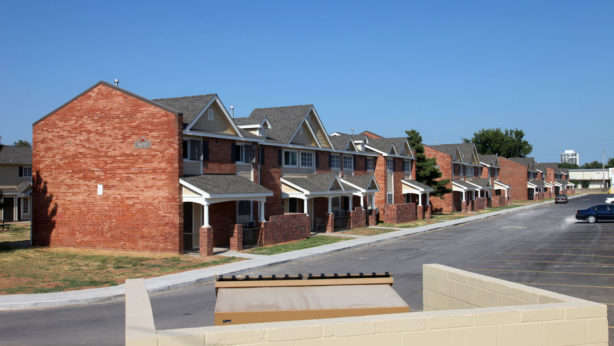 Riverview Apartment Remodel
The project was competitively bid and we were awarded this project with a contract value of$2,250,000.00.  The project required a 10 month schedule and we  completed this projectin 6 months.
This project was challenging in several ways. The first challenge was the fact that this project was funded with American Recovery and Reinvestment Act Funds. (ARRA). One of the key elements of a project with this type of funding is that all materials provided under our contract must be made in America. This goal was achieved fully. Through this project we have learned that there are still American manufacturers for most building materials but they are not always readily available. We have had to purchase nails from Minnesota, Light Fixtures from Florida and many other materials from around the country. This resulted in our procurement process having to be very efficient do to the fact we could not always just run down to the local supply yard and purchase materials that we needed.
In regards to the project being funded by ARRA funds, we realize this is a point of contention with many Americans but for our business, and our sub-contractors and suppliers, this project provide an significant positive economic impact by employees many people during its construction.
The next challenge was that this facility is at 100% occupancy and that the units were to remain occupied and accessible through-out the project. Extra precautions had to be put in place to ensure the tenants could always access their unit at all times and to provide a safe environment for the tenants as well as the workers to access the buildings.
We are also very proud of the fact that this project has been completed with zero lost timeaccidents and zero doctors cases. Their have been approximately 18,000 man hours expanded on this project. This project was also very difficult from a safety of the workers standpoint. This project required residential type of construction with commercial safety requirements. At the beginning of the project we invited OSHA to visit the project and review our safety plans and practices to verify we were in compliance. As a result of the joint review of OSHA and L. D. Kerns, we were able to refine our job site safety plans to allow our people to work safely and productively.
We are very proud to have been a part of this project, it was completed on time, on budget and with no accidents. It will also have a positive impact on the residents who live there by providing an attractive low cost housing option for families who need it.
In summary, L.D. Kerns Contractors has built our reputation in the "Hard Bid" Market of our business by providing our clients with more than expected. We will always go the "extra mile" to ensure our Client satisfaction.