Jenks Public Schools Baseball Facility Renovations
Jenks Public Schools Baseball Facility Renovations (Jenks, OK) – New Construction
L. D. Kerns was selected as Construction Manager for this project and it was designed by Crafton Tull. The concept for this project was to fast track the project by dividing it into 3 phases that would allow construction to begin while design on portions of the project continued as well as accommodating the baseball programs schedule for practice and pre-season tournaments.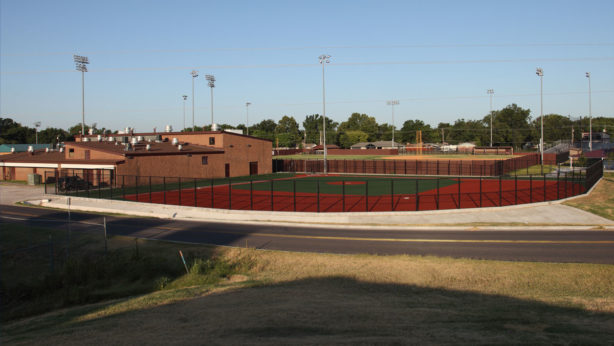 Jenks Public Schools Baseball Facility Renovation
Phase 1 consisted of vacating an existing city street and constructing a synthetic infield for all weather practice. Phase 2 consisted of a complete renovation of the indoor practice facility which consisted of all new equipment, batting cages, indoor turf, lighting and interior finishes. Phase 3 consisted of renovating the existing baseball stadium consisting of new bleachers, dugouts, entrance and ticket booth, dugout, bullpens and irrigation.
L. D. Kerns prepared and issued Bid Packages for all 3 phases ending with a construction budget of approximately $1,000,000.00. The project required a 5 month schedule and was completed on time and under budget. L.D. Kerns was able to return approximately $20,000.00 to the owner as a result of the final cost coming in under our Guaranteed Maximum Price.
This project was challenging in several ways. The first challenge was the fact that the project was a 5 month schedule and being let in three phases, this required preparing, issuing bid packages and awarding sub-contracts 3 times in a very short time duration.
The next challenge was that this facility is utilized year round for training and practice and our schedules had to be closely coordinated with the High School Baseball coach. Lastly there was a preseason tournament to be held at the facility and not meeting the schedule was not an option.
We are also very proud of the fact that this project has been completed with zero lost time accidents and zero doctors' cases. Their have been approximately 7,500 man hours expanded on this project.
We are very proud to have been a part of this project, it was completed on time, on budget and with no accidents. It will also have a positive impact for the Jenks School District by providing a state of the art and attractive baseball practice facility and stadium.
In summary, L.D. Kerns Contractors has built our reputation in the CM Market of our business by providing our clients with more that is expected. We will always go the "extra mile" to ensure our Client satisfaction.