Jenks Public Schools: Early Childhood Center
17,000 Sq ft State of the Art Facility
L. D. Kerns was selected as construction Manager for this project and it was designed byGH2 Architects. The concept for this project was to fast track the project due to multiple other projects going on at the Jenks campus.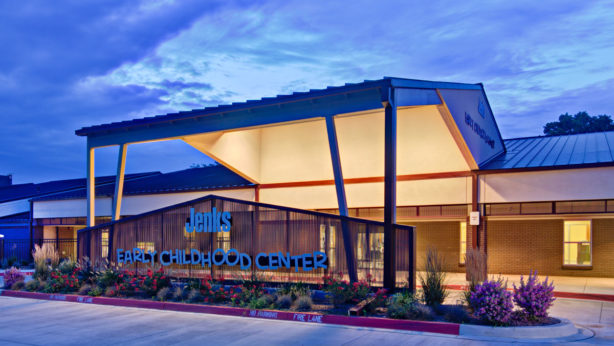 Jenks Public Schools: Early Childhood Center
This project had to be completed on time to allow for the demolition of the existing Early Childhood Center. The existing Early Childhood Centers site was to be used for a parking lot for the new Administration building which was being constructed at the same time as the Early Childhood Center and was to open shortly after the completion of our project. Our storage and lay down area were also to be the location of an underground storm water detention area that was tied to the construction of a new events center. Any delays would set the school district back and would not be acceptable and would impact multiple other projects.
The project was a $3.5 million dollar, 17,000 sf. structural steel building with masonry and EIFS veneer. The building has many distinct design criteria and a very high level of finish. It included a centrally controlled energy management system and integrated security with electronic hardware for all doors.  Another element that we are very proud of is the exterior play area.  They consist of sport turf play areas under the covered patios, poured in place track surface to allow for exterior play areas integrated with concrete paths for tricycles and landscaping.